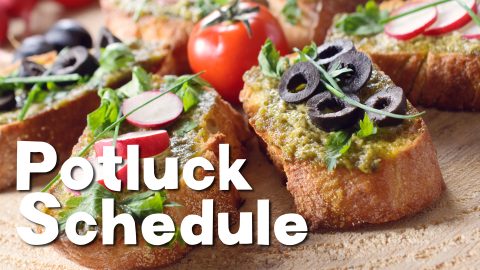 JOIN US FOR POTLUCK!
We have started doing Potluck Food Themes, so please check out the schedule below. Make sure to PAY ATTENTION TO THE SCHEDULED TIME of potluck as we do evening potlucks on the 4th Saturday and an evening social.
HOW MUCH DO I NEED TO BRING?
This online signup is a trial to see how well we can utilize technology. Please note, that if you sign up for an item, you should bring enough for about 25 people.
BUT I DIDN'T BRING ANYTHING TO SHARE...
Didn't bring anything? DON'T WORRY! There is plenty of food to go around, so everyone is welcome to join us!
I HAVE A QUESTION...
If you have any questions please contact Homaira Palmer (773-719-1470) or Jan Hiner (952-693-8363).
GET POTLUCK INFO TO YOUR PHONE
Send a text message "3angels" to 84576 to sign up for our text messaging service, or use our Flocknote signup below. The deaconesses will send a text message in advance to the group to give you the online link to signup to bring something.
UPCOMING POTLUCK THEMES
| | | |
| --- | --- | --- |
| DATE | TIME | FOOD THEME |
| Oct 28  | 6:30pm | Campfire Foods |
| Nov 11 | 1:30pm | Rice & Toppings |
| Nov 25 | 1:30pm | Thanksgiving Themed Foods |
| Dec 9 | 6:30pm | Birthday Party for Jesus |
| Dec 23 | --------- | NO POTLUCK |
| Jan 13, 2024 | 1:30pm |   |
---
FLOCKNOTE SIGN UP
Our church utilizes an app called Flocknote for all of our planning and communications to members. You can sign up for a free account below that will allow you to sign up for potlucks as well.