ARE YOU NEW TO GAINESVILLE?
We are glad that you chose to check out our church! If you are in Georgia, you have come to the right place!
DISCLAIMER:  If you are looking for the Adventist church in Florida or Texas...well, we are glad you came...but you may not find this very helpful.  Don't be embarrassed, these mixups happen ALL the time, really.
Now that we have gotten that straightened out...you probably want to know:
WHO IS THIS CHURCH IN GAINESVILLE, GA?
Here at Gainesville Seventh-day Adventist Church, our mission is simple:
Living by faith and sharing the Gospel of Jesus Christ by loving and serving our community.
Through community events and programs, we seek to share the Gospel by showing our love and compassion to our neighbors through service because that is truly what it means to be the hands and feet of Jesus. 
We are actively involved with multi-denominational community ministries such as Family Promise of Hall County as well as community events such as the North Georgia Chamber of Commerce Chamber Chase 5k Run/Walk and the Mule Camp Festival where we offer health screenings at no cost to everyone. 
When you combine our mission, simply put, we live to share because we love to serve.  If you are looking to make a difference, you have come to the right place. 
---
OUR VISION FOR OUR CHURCH
Here is a video where Pastor Juanfer describes the vision for our church that was presented at our 125th anniversary of ministry in Gainesville.
---
OUR PASTORAL FAMILY • THE MONSALVES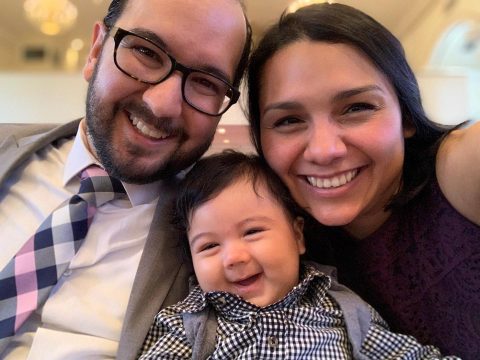 Pastor Juanfer Monsalve and his wife Gina have been with the Gainesville congregation since November of 2017. 
Pastor Juanfer was born in South America and raised in Houston, Texas.  He has had the privilege to work as a youth pastor, associate, and lead pastor over the past few years.  He has one goal when it comes to pastoring and that is to help you get to know God in a better way.  He believes that once we are in a relationship with Christ, the church becomes a movement that cannot be stopped as we follow God's guidance.
Both Juanfer and Gina are fluent in English and Spanish.
WANT TO SPEAK WITH THE PASTOR?
Click HERE and fill out this request form, or contact Pastor Juanfer directly.
---
WHAT'S HAPPENING AT THE CHURCH? 
Every week our Communications Department brings us our announcements in video format that is also available online so that you can stay up-to-date even when you are away.
Our weekly bulletin is also available online so that you do not miss a thing!
---
WHERE ARE WE LOCATED?
2695 Old Cornelia Hwy, Gainesville, GA 30507 - We are about an hour north of the city of Atlanta and located on the eastern perimeter of Gainesville, Georgia. We are easily accessible off I-985 at exit 24. Head east on Old Cornelia Hwy and pass through the community of Rabbittown.  The church will be located on top of a hill on the left side of the road.
---
WHERE ARE WE ONLINE?
Along with our all inclusive website, we are also available on Facebook, Instagram, and Vimeo.  This is where a majority of our photos are posted, additional announcements, and a place where you can communicate with us outside of the church building. 
Facebook.com/gainesvillesda
Instagram.com/gainesville.sda
We also live stream our Saturday services on Facebook and Vimeo for those that cannot make it out to the church.  All of the sermons are recorded and archived in our Vimeo vault.  We will post a selection of sermons below for you to get a feel of what you can expect at our church.