2/14/2020 UPDATE: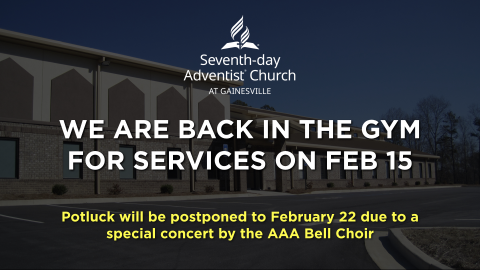 We will be back in the gym for services on February 15th!
Please see our Construction Update page for more information and important safety instructions.
Josh Dobson, Communications & Public Relations Director
---
To view bulletin info in full screen, click HERE 
---
WELCOME HOME.  
A Place of Refuge, Hope, and Purpose...for the last 125 years.
From Pine to Vine to current times...this is Gainesville.
Welcome to the Gainesville Church!  Our church is in Georgia, located about 50 minutes north of Atlanta, GA, with easy access off I-985 (Exit 24).  Just head east on Old Cornelia Hwy through Rabbittown and our church is just up the road on the hill.  We would love to have you visit with us. 
In order to keep you connected, we regularly post our recorded sermons, video announcements and e-Publications on this site.
---
Message from Pastor Juanfer
January 30, 2020
"I am the good Shepherd"…John 10.  This line is delivered by John right after Jesus says that He has come so that we may have ABUNDANT LIFE! It's as if John is telling us that abundant life is found in the good shepherd! Christ came so that we may have abundant life, and if that's what we desire we need to be part of His sheep. He is the door. He is the shepherd. He is life!
As we come into February, let us remember that the most important decision we can make is to choose to be part of God's sheep! Make that daily choice to walk with Him always!
Happenings
The reconstruction is going ahead at amazing speeds. February will be key to getting inspections and the roof done! All of the lower sections of the roof are scheduled to be fixed, due to smoke damage! Check our website and texting service for more information to changes we may have. As of right now we will NOT be meeting at our church February 1 & February 8. The meeting place is North Hall Community Center and Park. When you go in, it will be the last room on your left, so be on the lookout for our awesome greeting team. The address is: 4175 Nopone Road Gainesville, GA 30506.
I also want to remind you that February 8 we have special guests with us. We will be talking with a family who had to deal with addiction, and they have seen God rescue one of them from a sure path to death.
We want to thank the Buford Family Church, for allowing our school to meet in their building while ours is under construction! Thank you for your spirit of kindness and brotherhood.
The AAA Choir and Bell Choir will be with us February 22 leading our worship service! I'm excited to see our high schoolers lead us into the throne of God!
Prayer ministry is inviting us to fast and pray the last sabbath of the month. Let us pray and fast as we ask God to be a force in our lives! More details will be available in our announcements, stay tuned!
Basketball & Volleyball Camps are coming back to our church this summer! Begin praying for kids that you want to invite!
Prayer Conference is happening in February. If you'd like to go, please register online! There is financial help available!
Last Thing
Before I finish, I'd like to encourage you to start/continue your Bible reading plan for this year. It's never too late to grow in your relationship with Christ! Don't despair, if you do not know where to start, let me suggest that you start with the book of Psalms or the book of John!
Have an awesome February!
Until next time,
Pastor Juanfer
---
Stream our service LIVE on Saturdays starting at 11:15am!  Just click on the "Live Stream" link at the top of the web page.
All of our sermons and other shared media is archived on Vimeo. You can access all of the videos by clicking the button below or by visiting the Media tab above.
Because of the process it takes to produce our streamed media, videos may not be available until a few days after the service was recorded. We thank you for your continued support and understanding.
- The Audio/Visual Team
---