If you need the assistance of our Audio/Visual or Video Production Teams, please make arrangements ahead of time as requests may not be as easy as you think due to the specialized equipment that we use.
We request that any media that you need to use for Saturday services be emailed to us at dobson.joshua@gmail.com and tevinyoung48@yahoo.com by Thursday at 5pm.  
Please review the following table for requirements and restrictions of media content requests for Saturday services.
Media Type
Formats Accepted
Restrictions
Music  
.mp3 or CD
For liability reasons, we do not play music off phones or other personal equipment.  We do not have equipment to play cassette tapes.
Video
.mp4, .mov, or DVD
We do not stream directly from YouTube, so if you need to play a video that is online, please email that request by Friday by the deadline listed above.  We do not have equipment to play VHS tapes.
Streamed Media
YouTube, Spotify, etc.
We do not stream directly from the internet, so if you need to use streamed media, please email that request (if OK'ed by the Music Coordinator) by the deadline listed above.  Any requests on Saturday for streamed content may be rejected.
Slides
PowerPoint or Keynote

Do not embed fonts into your presentation.  If you have a specialized font, please email the font file with your presentation or export your presentation into high resolution JPEG format and import slides into another presentation. 

If you need to use your own laptop, we can hook up using HDMI or Apple Thunderbolt.  If you have your own adaptor, it needs to work with HDMI.

Photos
.jpg or .png

Please provide photos with good resolution that will be clear using our projector.

Recording

Any Format

Due to copyright licensing issues, it is our policy not to provide recordings, especially music.  Sermons are normally available afterward in our Media section on our website or on Vimeo as we have purchased the proper licenses to provide them.

From time to time, we do invite guest musicians and vocalists to perform at our church. Please respect their copyrights and refrain from recording when requested.
We understand that you may not be able to make it to church early, but please provide your CD or DVD to the AV/VP Control booth no later than 10:45am on Saturday. 
Most household computers have the ability to rip music off of your CDs, so if you have a computer at home, please try and convert the music file ahead of time into MP3 format and email it to us.  As a backup, you may want to still bring your CD.
---
It may sound silly, but yes, there is a proper way to use our microphones.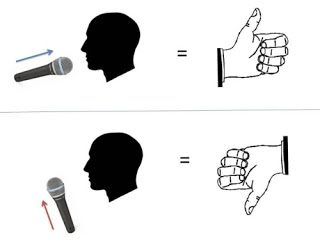 ---
Recording/Streaming Policy
By law, we cannot record or stream any live performances that require the use of pre-recorded music such as backing tracks without the direct permission from the original performer/writer.  We are only able to stream or record fully live musical performances where the music is played live.  With that said, any performances in which pre-recorded music is used, we will not be able to stream any audio or videos.  The music that we use for our live streaming services has been granted by the original performer/writer. 
We apologize for any inconvenience, but we are trying to comply with the guidelines of our CCLI licenses.
---
We don't mean to sound picky, but there is a significant amount of concentration and coordination by the Audio/Visual & Video Production teams that takes place in those 15 minutes before services start to make sure we have everything in place so that we can run the AV/VP for the church service and live streams.  We appreciate your efforts in respecting these policies.
          Thank you,
          The Gainesville Audio/Visual & Video Production Team
CCLI# 3275544 // CSPL 128912