2019 BEACH RETREAT WEEKEND SCHEDULE
Friday
7:00pm

Icebreaker

Music & Prayer

Short Devotional

Special Prayer

Saturday
10:30am

Prayer Circle Activity

Music/Testimonies

Prayer

Study Group Activity / Kids/Juniors Activity

Conclusion

Closing Prayer

Saturday
12:00pm

Lunch

Saturday
6:00pm

SUNSET VESPERS

Prayer/Music

Short Devotional

Blessing Prayer

Sunday
6:36am

Sun Rise (optional, for those who would like to see it)

Sunday
8:30am to 10:00am

Breakfast
---
We are planning on having a special retreat on the scenic Emerald Coast of Florida.  The destination is a Christian camp in Panama City Beach across the street from the Gulf of Mexico.
Here is the skinny.
We have reserved 11 cottages and a fellowship hall for this weekend.  We are planning on worshipping together on Sabbath, but the theme for the rest of the weekend is pretty unstructured and low-key...hang out with everyone and have fun.  There is beach access to the Gulf of Mexico right across the street from the camp or there are several pools to lounge around and relax.
You will be responsible for your own food, linens, as well as filling up the cottage with guests.  How you reserve is up to you...if you want space for just your family...or if you want to pack in some of your other church friends.  If you do decide to split a cottage, you are responsible for payment in full to the church (we cannot accept payment for 1/2 a cottage), so pick reliable friends :)  Also, late cancellations may be non-refundable.
Here is the campus layout: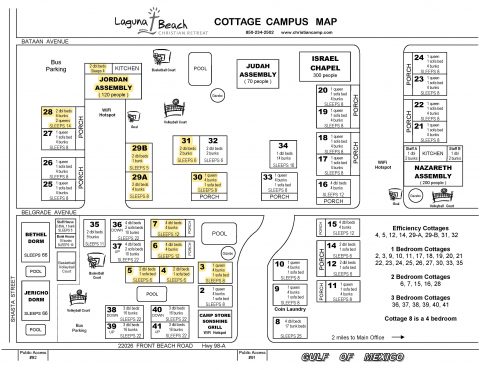 RESERVATIONS - CLOSED
Unit

Description

Sleeps

Types of Beds

Daily Rate

Reserved By:

Cottage 3

1 Bedroom

8

1 queen, 4 bunks, 1 sofa

$125

Lincoln & Janet B.

Cottage 4

Large studio

6

2 doubles, 1 sofabed

$105

OPEN

Cottage 5

Large studio

6

2 doubles, 1 sofabed

$105

OPEN

Cottage 6

2 bedroom

12

4 doubles, 4 bunks

$165

Jon & Dera B.

Cottage 7

2 bedroom

12

4 doubles, 4 bunks

$165

Josh & Connie D.

Pablo & Lisa M.

Cottage 28

2 bedroom

14

4 doubles, 6 bunks

$165

OPEN

Cottage 29A

Large studio

8

2 doubles, 4 bunks

$105

Juanfer & Gina M.

Cottage 29B

Small studio

5

2 doubles, 1 bunk

$90

Amarilis V.

Cottage 30

1 bedroom

8

1 queen, 4 bunks, 1 sofa

$125

Mike & Stela B.

Cottage 31

Large studio

6

2 doubles, 2 bunks

$125

OPEN

Jordan Staff

Small studio

4

2 doubles

$90

OPEN
---
THINGS TO DO IN PANAMA CITY BEACH 

Shipwreck Island Waterpark: We offer our guests discounted tickets to Shipwreck Island Waterpark available in the office. For more information on Shipwreck Island Waterpark, visit shipwreckisland.com 
Emerald Falls Family Recreation Center: 3 go-kart tracks, mini golf, arcade, bumper boats & more. 850-234-1049 
Cobra Adventure Park: go-kart track, arcade, batting cages, flight simulator, mini-golf & more. 850-235-0321 
Race City Amusement Park: 4 go kart tracks, roller coaster, fairground rides, sea maze, bumper boats, mini-golf, arcade & more. 850-234-1588 racecitypcb.com 
Coconut Creek Family Fun Park: Safari mini-golf, giant size human maze. 850-234-2625 coconutcreekfun.com 
Valentine Scuba Divers: Full service snorkel & dive tours. 850-420-7118 valentinescubadivers.com 
Easy E Watersports: Paddleboards, kayaks, jet-ski, and snorkel rentals. Call for discounted group rates and other info @ 850-866-1175 easyewatersports.com 
Gulf World Marine Park: Dolphin Theater & habitat, sea lion & tropical bird shows, splash laser light show, tropical gardens, swim with the dolphins. 850-234-5271 gulfworldmarinepark.com 
Sea Dragon Pirate Cruise: Pirate adventure on an 80' authentic pirate ship. 850-234-7400 piratecruise.net 
St. Andrews State Park & Shell Island Shuttle: Take a trip to Shell Island. The shuttle travels 
Every ½ hour, 7 days a wk from 9 am to 5 pm. Great bike trails and the best snorkeling is at the State Park. 
For more info, call 850-233-5140 or visit floridastateparks.org/StAndrews 
Pier Park: Longest pier on the Gulf Coast & across the street is a very unique open-air retail environment providing shopping, entertainment, tourist attractions, and 25 restaurants. Amusement park rides including a carousel, giant slide, tilt-a-whirl & more. pierparkrides.com simon.com/mall/pier-park 
sweetFrog Premium Frozen Yogurt: Dozens of flavor combinations of soft-serve frozen yogurt, plus sorbet. Mention you are staying at Laguna Beach Christian Retreat and get a 20% discount! 850-588-6539 sweetfrog.com 
Signal Hill Golf Course: Short course, cheapest, fun. 850-234-3218 signalhillgolfcourse.com 
Holiday Golf Club: Par 3 course, championship course, closest to retreat. 850-234-1800 holidaygolfclub.com 
CondoCierge: Pre-arrival delivery of groceries, beach gear, and baby gear. 850-588-6099 condocierge.com 
For Even More Things To Do in Panama City Beach visit: www.See-PanamaCityBeach.com