Gainesville Church Phased Reopening October 17, 2020
That is right, we are starting a phased reopening of our church services starting October 17th. The reopening will bring us to Phase 3 in which we will have limited attendance of up to about 100 people maximum. We will only be having ONE service at 11:30am. Please read the guidelines below as voted by the Church Board on September 22, 2020 and revised on October 13, 2020 (with respect to capacity). BY ATTENDING, YOU ARE TELLING US THAT YOU ARE OK WITH COMPLYING WITH THE IN-PERSON RETURN GUIDELINES. If you are not comfortable with complying with these guidelines, please feel free to continue to watch us online at gainesvilleadventist.org/live.
 Our Phased Approach to Returning • Currently on Phase 3

Sabbath School Online Only
There is currently NO IN-PERSON Sabbath School classes. You can continue to login online to our Zoom classes starting at 10am on Saturday mornings at gainesvilleadventist.org/ssonline
Face Masks are Required
As part of our return guidelines, we have agreed that face masks that COMPLETELY COVER YOUR NOSE AND MOUTH must be worn at all times while in the building. If you are not comfortable with wearing a face mask, we would ask that you consider our live stream option at home.
Services Limited To 100 Participants
We received additional guidance that will allow us to expand our sanctuary capacity to about 100 people (plus participants). This translates to about 28-30 families as we have to keep families at least 6 feet from others. Once we reach maximum capacity, we will have to ask you to either 1) stream online or 2) listen in the parking lot on your radio via our audio stream on 97.9 FM. In the future, we may have to require families to reserve seats as more people start to regularly attend.
ADA Personal Listening Devices / FM Radio Signal Available
Due to the possibility of contamination, the AV booth will no longer be loaning out ADA listening devices with headphones. Those that need an amplified signal are encouraged to bring a personal FM radio with their own headphones and tune in to FM 97.9 to listen to the live signal.
Social Distancing is Required
Please refrain from any physical contact with people that do not live in your household. This includes hugs, handshakes, and encroaching that 6 foot radius around them (when possible). Please be considerate. Just because YOU may be OK with it doesn't mean the other person is OK with it. It's nothing personal, it is about everyone's safety.
Offering / Giving
We will not be passing around offering plates but we will have a place for you to deposit your offering envelopes before or after the services. We would like to encourage those who have been using online giving to continue to do so.
COVID-19 Exposure
If you have potentially been exposed to someone or some place that is quarantining due to COVID-19, PLEASE DO NOT ATTEND OUR IN-PERSON SERVICES. This includes if someone tested positive at work or a church that you have attended in the last 2 weeks. You are more than welcome to view our online services, but for the safety of our volunteers and attendees, please do not come if you have potentially been in contact with COVID-19 in the last 2 weeks. Thank you.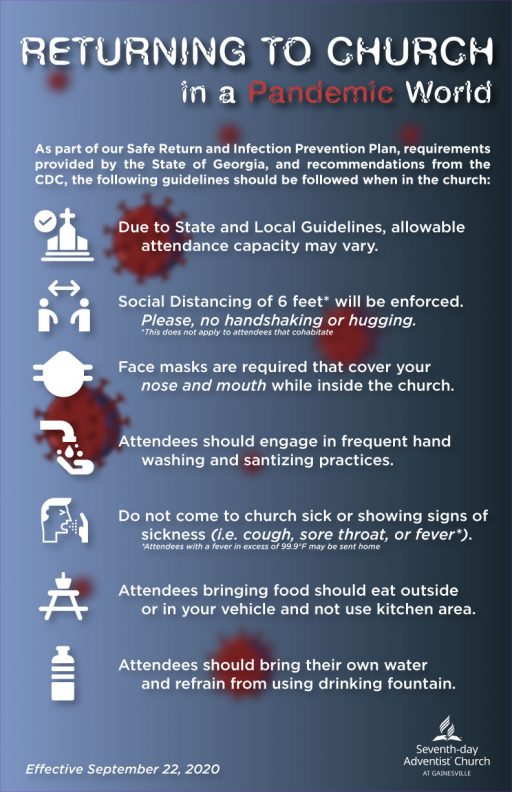 Here is our written Return Plan as approved by the Church Board on September 22, 2020.  Please review the plan prior to arrival to ensure you are comfortable with the requirements we have established for returning to services safely.