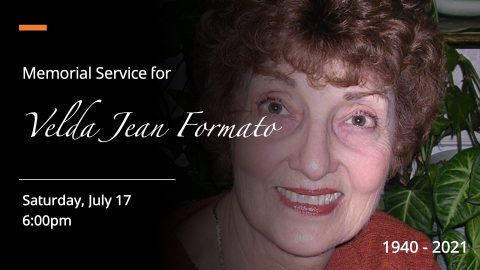 Memorial Service for Velda Jean Formato
January 18, 1940 - July 3, 2021 • Age 81
Mrs. Velda Jean Formato, 81, of Flowery Branch, passed away July 3, 2021.
Funeral services will be held at 6:00pm on Saturday, July 17, 2021 at the Gainesville Seventh-day Adventist Church, 2695 Old Cornelia Hwy, Gainesville, GA.  Pastor Juanfer Monsalve will officiate.
Born on January 18, 1940 in Greeley, CO, she was the daughter of the late John Klingenberg and the late Mary Alsdorf.  She was retired from the Hall County Correctional Institute where she was a counselor.  Mrs. Formato was a member of the Seventh-day Adventist Church.
Mrs. Formato is survived by her husband, Joseph Formato of Flowery Branch; daughter, Kimberly Warren of Clermont; son and daughter-in-law, Kenton and Amy Boskind of Thomasville, GA; brothers, Allen Klingenberg of Mesa, AZ, Timothy Klingenberg of Baldwin, FL; grandchildren, Avery Botticelli, Richard Allen McKinney, Sean Boskind, Nikki Maassen; great-grandchildren, Avalon Botticelli, Raylan Botticelli, and a number of other loving relatives.
In lieu of flowers, the family requests donations be made to the ALS Association of Georgia, 5881 Glenridge Drive #200, Atlanta, GA 30328; als.org/donate.
Memorial Park Funeral Home, 2030 Memorial Park Road, Gainesville, GA 30504 is in charge of all arrangements.
Send online condolences to memorialparkfuneralhomes.com.
Date of Memorial Service:
Saturday, July 17, 2021 • 6:00pm
---
Memorial Service
Velda Jean Formato
January 18, 1940 - July 3, 2021
Welcome & Opening prayer  
Frank Santos
Slide Show
Biography
Kim Warren
Amazing Grace
Marie Pirkle
Memories of Mom
Kenton Boskind
Share your Memories
Open Microphone
Hymn
"In the Garden"
Words of Hope
Juanfer Monsalve
New Jerusalem
(Remain Seated)
Closing Prayer
---
Location:
Gainesville Seventh-day Adventist Church
2695 Old Cornelia Highway, Gainesville, GA 30507
Revised: 7/9/2021 9:30pm