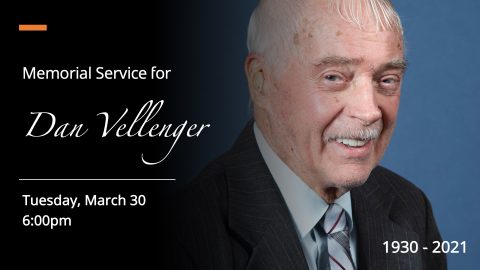 Memorial Service for Dan Vellenger
February 27, 1930 - March 23, 2021 • Age 91
We regret to inform you that Dan Vellenger passed away on March 23, 2021.  He was surrounded by his family when he passed.  Arrangements are currently being arranged and will be made public on this site when available.
Date of Memorial Service:
Tuesday, March 30, 2021 • 6:00pm
*Service will not be recorded and sound may be muted during songs.
Location:
Gainesville Seventh-day Adventist Church
2695 Old Cornelia Highway, Gainesville, GA 30507
Obituary: 
Daniel Vellenger, 91, of Murrayville GA, passed away on March 23rd, 2021 from natural causes surrounded by family. 
Daniel was born February 27, 1930 in Paterson, New Jersey.
Daniel is survived by 3 children, Linda, Andrew, and Jordan. Grandfather of, Landon, Hayden, and Savannah. Mr. Vellenger touched many lives and had a strong love for Jesus. He was brought into the church by the Farrar Family at 21 and baptized on December 25th 1954 in Paterson NJ. He held the position of an Ordained Deacon and Elder in the Adventist church and he faithfully served his God and church community for 67 years.
We mourn the loss of our father and encourage any and all who knew him to join us on March 30th at 6pm to celebrate his life. Services will be held at the Gainesville SDA Church 2695 Old Cornelia Hwy, Gainesville, GA 30507
Memorial Park Funeral Home North Riverside Chapel, 989 Riverside Dr. is in charge of arrangements.
Send online condolences to www.memorialparkfuneralhomes.com.
Revised: 3/28/2021 2:00pm
---