>
Home
>
Events
Chamber Chase 5K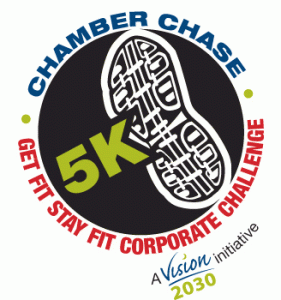 The Greater Hall Chamber of Commerce is hosting its annual Chamber Chase 5k Run (and 2 mile wellness walk) on September 21, 2021 @ Lanier Islands in Buford, GA.
This year, Emma Dobson will be participating as a team captain and Dobson Ortho Laboratory is willing to sponsor the first 5 participants who will be RUNNING in the 5k.
If you have interest in participating in this year's Chamber Chase, please contact Josh Dobson.
---
Captain Emma's Training Schedule
|   | Date | Workout Schedule (Recommended 3x per week) |
| --- | --- | --- |
|   √ | Week 1 (7/4) | Run 2 min, Walk 4 min (repeat 5x) |
|   | Week 2 (7/11) | Run 3 min, Walk 3 min (repeat 5x) |
|   | Week 3 (7/18) | Run 5 min, Walk 2.5 min (repeat 4x) |
|   | Week 4 (7/25) | Run 7 min, Walk 3 min (repeat 3x) |
|   | Week 5 (8/1) | Run 8 min, Walk 1 min (repeat 3x) |
|   | Week 6 (8/8) | Run 9 min, Walk 2 min (repeat 2x) + Run 8 min (1x) |
|   | Week 7 (8/15) | Run 11 min, Walk 1 min (repeat 2x) + Run 6 min (1x) |
|   | Week 8 (8/22) | Run 13 min, Walk 2 (repeat 2x) |
|   | Week 9 (8/29) | Run 14 min, Walk 1 (repeat 2x) |
|   | Week 10 (9/5) | Run 30 min |
|   | Week 11 (9/12) | Run 30 min |
|   | Week 12 (9/19) | RACE DAY - SEPTEMBER 21 |
---
Photo Booth Pictures from 2018